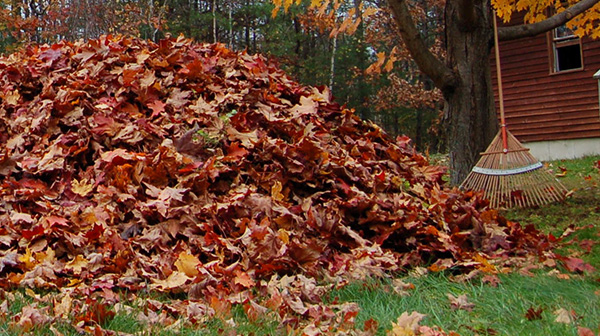 Fall is upon us, and Winter is on its way which means it's the perfect time for some building and property maintenance to help you ease your business or home into cooler weather, and whatever nature throws your way. Here are some tips to add to your maintenance list this Fall that may help improve safety of you and yours..
Outdoor Safety and Maintenance Tips
Clean up fallen leaves often.

Keep walkways and parking areas free of falling leaves. Wet leaves can create a hazard for pedestrians, making sidewalks slippery. Later in the season, snow and ice can mix with leaves to increase the risk of falling. Don't forget the gutters and drains!
Check your lighting.

Proper lighting can help illuminate areas that may be common places for employees or clients/family members to trip and fall. As the sun starts to go down earlier and earlier, hazards like steps or uneven surfaces can be hidden by the shadows. Minimize the chance that individuals will fall by checking to see if there is enough light in your parking lot or walkway or entry areas, and replacing any dim or broken light bulbs. Add spotlights and extra illumination wherever needed.
Trim the trees.

Fall is the ideal time for corrective pruning, and an excellent opportunity to spot potential problems before winter storms bring branches crashing down. Pruning can help improve the structural integrity of trees in anticipation of heavy snow, ice or winds while keeping your trees looking their best. Make sure to look up and survey the area before you start. Note of where power lines are located before you set up your ladder, and position it away from them. Use caution when using ladders - wear the appropriate footwear and place on a flat, level surface before use.
Indoor Safety and Maintenance Tips
Check floor condition, inside and out.

Take a tour of your building and outdoor walkway areas, checking for cracks or holes in building flooring or the pavement outside. Repair any problem areas quickly, and be sure to place warning signs around areas that need to be addressed.
Fire up your heating system. Turn your heater on before the temperatures drop so you can ensure everything works properly. Contact a technician to inspect that it's operating properly if you suspect it needs servicing. Keep all flammable materials away from your furnace. This includes paint products, toxic materials, cardboard and more.
Check your HVAC system to improve air quality, and improve efficiency.

This goes along to our last point, however a

s dust and dirt builds up in you heating, ventilation and air conditioning system throughout the year, reducing air quality and potentially raising your energy bills or damaging your HVAC equipment, it's important to have someone check and clean your ducts in the Fall.
Put out rugs to help control slippery surfaces.

Anywhere you have wood or tiled floors (especially at entryways) non-skid rugs can help reduce your accident potential. A rug at your entryway will also help reduce pooling water and mud that sneak in during Fall weather, and better help manage tracking of water throughout the building.
Check for Basement and Pipe/Foundation Issues.

Whether or not your building is located in an area of the country that freezes regularly, it's a good idea to inspect basement pipes every fall. Not only could you prevent the costly business interruption and property damage associated with burst pipes, but you could also save on energy costs. For example, insulating outside pipes and sealing the areas where pipes enter and exit the building not only help reduce freezing risks, it also reduces heating costs. As does sealing any other cracks or holes in the basement that could let in cold air.
Be Prepared
If it's anything I learned from my days in the scouts, it's to always be prepared. Look around your home or office and identify the possible safety hazards. If you find any hazards that you think need attention, take the time to address these concerns. If you develop a safety conscious attitude, you can become aware of office or home hazards and take the appropriate precautions to avoid them.