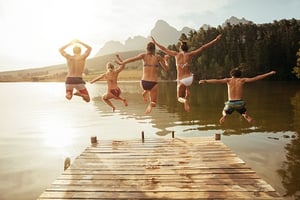 With beautiful sunny days, fireworks, backyard barbecues and exotic vacations, summer is synonymous with fun and relaxation.
Although summer may seem like a time for fun and celebration, homeowners need to be aware of the risks that could result in costly financial inconveniences. Agents can assist their clients by bringing their attention to the risks associated with the season, helping clients avoid filing a common summertime claim.
"Vacation Mode" Safety Tips
Summer is a common time for travel, and whether a homeowner is travelling to the woods for a long weekend or spending a month on a tropical vacation, they must prepare the home for vacancy.
Families leaving home for an extended period of time should turn off the valve on the washing machine, check the batteries in smoke detectors and put high-end electronics on a storm surge protector in case bad weather leads to flooding or fire.
Having a trusted neighbor or family friend periodically check on the home can also be helpful in preventing any problems.
Putting a stop on mail and newspaper delivery and putting lights on a timer can also decrease risk and provide peace of mind.
Before taking off for summer vacation, suggest that your homeowner clients contact you to learn of their of their coverage options before renting boats, cars or vacation homes.
In some cases, additional coverage may be needed, but sometimes a homeowner's current auto or homeowner policies may provide effective coverage.
Theft Safety Tips
The cool summer breeze through open windows is comforting, especially when the weather is hot and humid. But open windows and doors can result in theft. Although homes are often targeted when the homeowners are away, theft can happen just as easily if someone is home when windows and doors are left unattended.
In the summer, home and car windows are frequently left ajar, sometimes unlocked, and garage doors are usually open, putting homeowners at risk for thievery.
Advise your clients that if they're going to leave windows or doors open, they should keep items like wallets, cell phones, golf clubs and jewelry out of sight.
Water Safety Tips
Pool parties or simply a relaxing swim can help remedy the summer heat, but water can also be dangerous.
Homeowners with backyard swimming pools should be especially attentive of swimming children and take precautions to avoid drowning. They can install motion-activated alarms to sound an alert if someone falls in the water.
For families with pools, installing a fence around the pool area to prevent unwanted swimmers, who if injured, could be a potential liability for the homeowner.
Fire Safety Tips
Fireworks are fun to watch, but they are also a leading cause of summer house fires and can cause serious personal injury. Thousands of people are taken to the emergency room every year because of injuries from fireworks, including smaller ones like sparklers and firecrackers.
Advise your clients to leave fireworks to the professionals. Public fireworks displays are often bigger and brighter and significantly lower risk for injury. Even when attending a public show, however, it is important to be alert and aware of the nearest exit in case a mishap occurs.
Whether you are taking a long summer trip, or a stay-cation at home, remember to check your safety tips to be sure you have the piece of mind while you're relaxing.