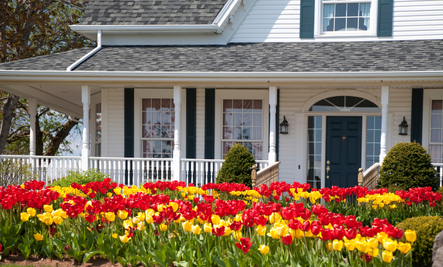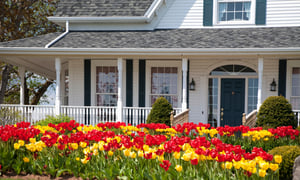 Spring is a time for rejuvenation. As the weather gets warmer and the days grow longer, there's a positive energy in the air. Many people decide it's the perfect time for reorganizing and refreshing their homes with a little spring cleaning, while others eagerly get to work in their yards or gardens.
While it's easy to get caught up in spring cleaning and planting, this is also one of the most important times of the year for home maintenance. The beginning of daylight savings is a great time to change the batteries in your smoke and carbon monoxide detectors, so if you haven't done that yet... here's your reminder! It's a good idea to do a basic checkup in some other key areas, too. After all, winter can be rough on your home.
These tips, from the Department of Housing and Urban Development and others, can help. Call it "spring training" for homeowners.
Roof, Siding, Windows
Check for damage to your shingles, including mildew and algae; have a professional inspect and repair your roof, if necessary.
Look for peeling paint. Remember, paint is about more than appearance. A good paint job also protects against the effects of weather.
Check for leaks around window and door sills. Properly sealed windows and doors can help prevent damage and lower your energy costs.
Go into the attic to check for signs of roof leakage, such as visible moisture or discoloration.
Home Exterior and Yard Maintenance
Clean gutters and downspouts.
Trim tree branches and shrubs that are hanging too close to your home or to utility wires, and remove dead trees.
Examine your deck and/or balconies for loose boards or railings, as well as any rot.
Ensure that mulch and soil isn't in contact with your home's siding.
Check for signs of rodents, roaches, termites, etc.
Home Interior and Appliances
Examine your basement and/or crawlspace for any signs of standing water or dripping. Take action immediately, if needed, to avoid mold.
Clean your dryer exhaust hose and vent. Lint build-up in this area is a common cause of fires, so do a thorough job by moving the dryer and disconnecting both ends of the hose.
Clean exhaust fan outlets and screens.
Check all air filters and replace, if necessary.
Vacuum refrigerator/freezer coils to help your unit run efficiently.
These tasks will help keep you and your family safe, and they also can save you from costly repairs or homeowners insurance claims. So remember, when spring rolls around, there's a lot more to do than cleaning and changing your clocks.
Tell us what you think! Do you have any tips for Spring that aren't listed here? We want to hear from you!