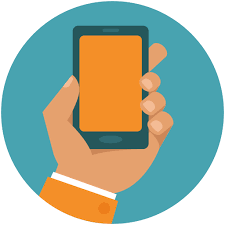 Want to be successful in inbound sales?
The benefit of inbound is that instead of blasting your message to as many people as possible and hoping for the best, you have the chance to make a genuine connection with prospects – creating true "win-win" outcomes.
One of the main reasons inbound marketing is so powerful is that it's permission-based: Early in the relationship, prospects signal they are willing to hear from you. But once you have that permission, what do you do?
That's where inbound sales techniques come in.
There will always need to be direct contact between your prospects and sales team, but the route to get there is very different: Lead nurturing happens at every step but outbound sales are a lecture, while inbound sales are a conversation! As a result, prospects are more likely to listen when the sales call comes.
Let's look at seven top inbound sales techniques:
1. Before You Call, Do Your Research
Someone who looks at a flyer about public speaking anxiety is in a different place – with different needs – than someone who reads about a master seminar for executives who want to give better presentations. With granular insight into prospect activities, sales teams have the chance to open a conversation based on what they've seen a prospect do – rather than what they'd like the user to do to "qualify better" or "move through the funnel."
Before you make your call, take the time to review information you have about your prospect and their needs, and develop a plan on how to cover their top concerns and let the conversation flow naturally!
2. OPEN A TWO-WAY DIALOGUE TO UNDERSTAND THE PROSPECT
The more comfortable a prospect gets, the more likely he or she is to make a purchase. How do you make someone comfortable? The same way you would with anyone else... take a genuine interest in the other person.
Over the phone, a lot of the little physical cues that can make people comfortable disappear. The best way to spark rapport is to ask questions! Ask them about what brought them to this point, what they've tried, and what they need.
3. Turn the Buyer Journey into a Buyer Story
Using inbound effectively means you need to talk to your prospect at every step of their path from awareness to consideration to decision. But making sure that you are a trusted resource is a tricky line to walk. Are you calling or emailing your follow-up too much? How can you make these tools effective, not intrusive?
The answer is simpler than it looks. Map out the buyer journeys your customers may have. Insurance is a lot like selling a service as a sale, so you need to know what individual pain points they might have and questions that need resolution before the buying decision is made. Which products should your communication focus on?
Only by refining your understanding of the buying process can you make sure the tools you use are a real extension of your value – instead of pull-string toys that blurt out useless, pre-recorded messages. Get creative, descriptive, and excited! It translates over the phone!
4. Let People Sell Themselves
It's pretty well known as sales people that we always know when and how to "ask for the sale". As an inbound sales dynamo, you can still do this in your own way – but it's often much better to let prospects ask themselves.
Your role in inbound sales is to give the prospect enough information to justify their own decision. By using your buyer story to take your potential new client through the sales process, allow them to ask all the questions they have because most buying decisions happen when there are little to no reservations.
5. Figure Out What to Ask and Teach in Sales Calls
For you, the ultimate goal of a sales call is (surprise, surprise) to make a sale. This goal and the tension it causes can sabotage a call fast! To move forward, take the prospect's perspective: What do they want to learn from your call?
How you can help them.
In the inbound methodology, sales pros need to get more comfortable with the role of mentor and adviser: It's "consultative selling" turned up to the next level. Acknowledge in your mind that some prospects simply aren't right for your brand – focus first on answering questions, not objections.
6. Focus on Thought Leadership
We know, we know: Thought leadership is probably one of the most overused terms in sales and marketing today. Everyone and their dog wants to be a "thought leader," but many brands have little understanding of what that means – and how it impacts their sales process.
By spreading truly innovative and thought-provoking content, you capture more leads who are interested in what you have to say. To make a long story short, thought leadership doesn't stop at telling others your way is better: It focuses on why and what difference it makes.
This has a dramatic effect on the sales process as a whole, since it means people who connect with your brand already have an interest in what you have to say – and recognize that your competitors may not offer the same value you do.
7. Practice Active Listening
If there's one thing that ties all aspects of inbound sales together, it's listening. It's up to sales pros to take that and run with it in direct interactions.
Where old-fashioned outbound selling was all about "us," the company, inbound methods are all about "you," the prospect. That requires sales pros to have the poise and balance needed to carefully listen to what prospects have to say once they're on the phone.
Every conversation includes opportunities – but you have to listen for them.
Active listening helps people drop their guard because you convey that you value their time and they have your full attention.
That gives them the best possible impression of what they can expect from you once they buy!
If you are looking to make your phone ring with more inbound traffic, click here to schedule a complimentary consultation!