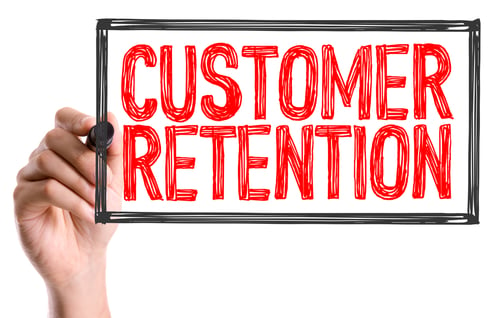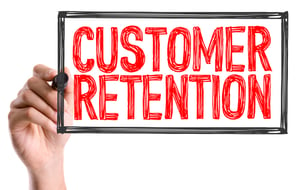 It's easy to take for granted the things we value the most. This is especially true with relationships, including the relationships we have with our best insurance clients. I once read the saying "Your best clients are your competitions' best prospects". And while, that seems pretty obvious, I would argue that the best clients are the ones who are given the attention they deserve, before they realize they need or want it.
Have you ever had a client that you assumed would never leave, and then unexpectedly moved their business away from your agency? As an insurance and marketing professional, I see this happen too often and I have also learned this the hard way from my own personal experience. Sometimes, even your "lifetime client" will leave if they aren't getting the service they feel they deserve.
Early on in my career in marketing, I wrote a $10,000 up front agency account which went on to bring on over $3 million in revenue for the lifetime of the account. We had a good relationship (or at least I thought) and after a few renewal dates, I simply figured they would be a client for life. Never had a problem, would reach out when they did, and was always happy to work with us.
Then, one morning in July, I got back to my desk at the office after a weekend away to find out that client sold his book, and ended the business relationship. My heart stopped, then I immediately got upset. Not upset for my client and his success, upset because in that moment I realized I hadn't done enough to foster that relationship, or the upcoming relationship with the new agency owner.
After a week of pouting, the stark reality hit me upside the face. I didn't earn their business. In fact, I took it for granted. I deserved to lose it. As insurance professionals, there are two things that should be your focus every single day; Relationships and Risk Advice.
How are you developing and improving the relationships with your clients and what are you doing to help them control their true cost of risk?
The top reason that insurance clients move their account to another agency is indifference. Not an egregious mistake or a premium increase, but most often, it's simply indifference.
At Avenge Digital, we believe that the goal of every agency should be to achieve 100% effective retention on their best clients. Outside of businesses closing or merging, death, or any other factor outside of your control, your agency should maintain 100% of the clients you want to keep.
Is maintaining 100% of your top clients possible? Well, if you are like most agencies, the answer is no. However, if you are committed to providing a continuation process with exit barriers based on relationship management and risk advice, the answer is yes.
Stop renewing accounts and start continuing relationships!
Most agencies focus on how they will renew accounts. What if your agency spent more time on building value-based relationships and less time stressing over renewal dates and pricing?
Below are the six ways we've seen first hand how to achieve the best results for your agency:
It Starts With Your Team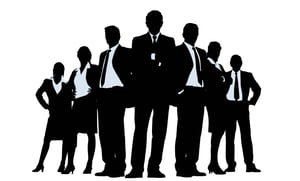 The people who run your machine are your greatest asset. Beyond fostering a fun and productive environment, providing your team with a live stream of leads or calls is the first step in keeping your pipeline full, and the start of any retention process: gaining the business first.
I was speaking with one of our account executives, Bianca Ross, and she shared some of her observations:
"The agencies I've worked with provide a variety of aggressive marketing campaigns that allow new producers to close business and earn commission. The agent is thinking more about the long term versus the short term financial investment. They calculate their marketing budget not just by the close rate of a specific campaign, but on the collective productivity of a producer and their residuals. The agents who have the most successful staff believe in the competency of their producers. They aren't afraid to make a marketing investment because they've already invested time and training into the producer. If they find themselves afraid to invest in a campaign, they should re-visit the fundamentals with their producers and find the gaps in training and handling prospects."
She has a point here. By having a hands on approach with internal training, and having a solid follow-up process in place, this is the foundation of where your retention will come from.
Full Time Clients Only
One of biggest mistakes we see agencies make is that they do not round-out their clients accounts. Do you write all lines of your client's business (personal lines, commercial lines, life, and benefits)? Why not? Even if the other lines of coverage are handled by a different department, your agency should still be the point of contact for all of their insurance needs.
Every additional line of coverage you write for your clients multiplies the likelihood of retaining that account for multiple years. In fact, studies show that the average agency increases their five-year retention by 65% (from 27% to 92%) when they go from single line policies to four or more lines of insurance. Additionally, just because your client does not have an additional line today, doesn't mean they won't ever have them. Which leads us to our next point....
Proactive Client Contact
The sad truth is that many agents do very little in terms of proactively contacting their clients. Every touch point, or contact, is either an emotional withdrawal or a deposit with your clients. If your client's only interaction with your agency is regarding billing, claims, or the upcoming renewal, you are sucking the life out of your most important relationships.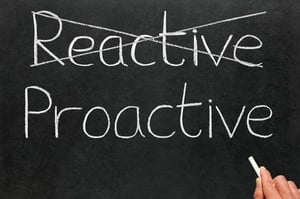 I was recently speaking with an agency leader who said one of the most powerful and effective things she has ever done is to put a list of her top 20 clients in his desk drawer and make regular calls simply to check in to see how he can help and add value. Remember, if you aren't making regular contact with your clients, someone else is.
Schedule and execute on specific proactive contact. This can be anything from a thank you, a friendly check in, a birthday, or holiday. There is no bad reason to touch base with your client if it is providing an emotional deposit.
Additionally, I have seen a few agencies go a step further and do the same for prospective clients whom might not be eligible to close today, but will keep in contact with that prospect for when the time comes as they will be first on their mind!
Defined Continuation Process
Could you imagine playing a game where the rules are made up as you go along? That's what many agencies do with their clients. There is no defined outcome, schedule, or expectations. Therefore, at renewal time, instead of feeling confident that you have performed as expected to continue the relationship, you simply hope that the score will turn out in your favor.
When I ask most agencies about their continuation (renewal) process, they start about 120 or 90 days from the renewal date.
An effective continuation (renewal) process starts by understanding the client's expectations up front. What are the rules we will play by? What do they expect from the agency? This needs to be defined up front.
Does your agency have a defined service calendar for your client? Do you provide an annual stewardship report? Do you conduct annual risk reviews? Do you have a defined plan of how their account will be marketed in the future? These are just a few of the items that need to be discussed up front in your continuation process. Having no plan is a bad plan.
Member of Trusted Advisor Team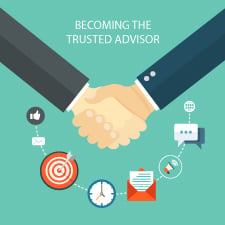 I talk a lot about being a "trusted advisor". I do it for my team, and I preach it to our clients, and here's why: As an insurance professional, you provide knowledge, insight, and advice that your clients can't get anywhere else. That's what makes you a professional. You need to position yourself as a member of your client's financial team.
The analogy I use, and I visualize myself doing this for my own clients, is that I'm trying to sit on the same side of the table working together and not across the table. When you come from a place of honesty, integrity, and transparency, you will do a lot of emotional deposits for your clients. People don't forget when they've been treated well.
Becoming an Indispensable Resource
The law of compensation states that your ability to get paid (and paid well) depends on three factors:
The need for your products/services in the marketplace
Your ability to deliver those products/services
The difficulty there is in replacing you.
How difficult are you to replace? What do you offer or what can you offer to your clients that no one else can provide? What makes you indispensable?
This could come in the form of your risk analysis for a specific industry, your network of resources, your consistent communication, your community involvement, or your ongoing educational services. Only you can determine how to become indispensable, but when you find it, you clients could not imagine doing business with anyone else.
The Bottom Line...
Getting highly effective retention is possible. Yes, it may be more work up front, but when you implement these six strategies with your clients, your relationships will be stronger, your referrals will increase, and your stress level will decrease.
The goal is to have clients for life. We don't want to churn clients. We want clients that are with us forever. Even a 1% to 2% increase in your retention can improve your agency's overall profitability by 5% or 6%.
Tell us what you think? What are you doing today that will grow the relationship with your clients? We want to hear from you!