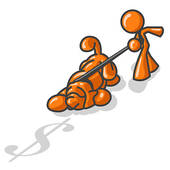 Recently a majority of my posts have talked a lot about technology and how you can use it to grow your current leads and inbound customer calling business. Now, let's look at that information further and see what you should be tracking within your agency to create continued business and growth.
Email Open Rates
After reading my post, How to use Email Marketing to gain more Insurance Customers, you hopefully have started sending emails on a regular basis, and through this new email process you should have email analytics to track. This tracking is known as, click rate. Agencybloc.com, describes click rate as a standard metric that simply calculates the percentage of unique clicks your emails receive per emails sent.
# of unique clicks/# of emails sent = click rate
Tracking your click rate is easily done through your email service providers (ESP) or agency management system. By evaluating your click rates you will be able to understand your clients email habits. It also sets you up for further email content ideas, tracks audience engagement, helps you find out the perfect day and time to send your emails and helps you know if your subject lines are doing their job.
Referrals
I don't have to tell you, referrals are great for your business, and we have discussed several ways to increase and gain referrals, but how do you know if any of those tactics are workings? Through referral tracking, you will find out exactly how many referrals you are gaining and directly where they are coming from. This is important information to use if you have a referral program or offer incentives. The most important part to tracking referrals is make sure to keep it simple and figure out a way that works best for your agency. Spreadsheets are the most used process for referral tracking. If you need a great example of a spreadsheet, checkout the one on Agencyupdates.com.
Social Media
Now that you have started a social media plan for your agency, it's time to start tracking your progress. Tracking your social media is incredibly important for future post planning and to determine whether you need to run or even increase your run of Facebook/Twitter Ads. It will also let you know what times work best to post and what blog posts were read the most. Tracking will also let you know if your social media has become a full- time position and if you need to hire someone to run it. Social media tracking can be done through many sites and companies, a simple google search will help you find which one best suits your agency
This is just the tip of the iceberg on what you can be tracking within your agency, but it's a good start. If you have any great ideas that have helped you track within your agency leave it in the comments.